I just finished leading my thirteenth
Vision Quest
at Temenos Retreat Center in Shutesberry Mass. It was my first one at this new location.
I have to admit, I was nervous about leading this VQ as it was at a new place and I usually have a strong relationship with the land spirits before I lead a ceremony with this kind of power.
So, for months, I would go up to Temenos and spend time on the land praying, walking on the trails and praying some more to begin the process of introducing myself to the land. At one point, I realized I simply needed more supporters to come and be there for me as far as holding the energy for the group.
It was after I did a pipe ceremony near the water that I received the message to invite my student, Mia, to come and be my personal assistant.
When she agreed to come, she asked if she could bring her eight yr. old daughter, Maya. I said Oh yeah! I knew she was going to be a great added attraction to the circle but had no idea what would unfold over our week together.
I had eight woman who would be Vision Questing and six supporters, one being our cook, and others helping with the fire and supporting in other ways.
Most got there Sunday night. We had dinner and settled in as it was a long ride to get there for most of the group.
Monday night we had our first
Pipe Ceremony
. Mia and Maya had arrived finally and I was delighted to see them both!
As we set up I asked the other pipe carriers to sit in different places in the circle to balance things out as far as passing the pipes in the circle. Maya, Mia's daughter ended up sitting right next to me.
Mia had the fourth pipe (I had gifted her my Ireland pipe two years ago). I wanted four pipe especially for the first ceremony to bring in the power of the Four Sacred Directions.
Most of the time when I lead a Pipe Ceremony I sing a lot of songs that relate to the pipe.
We loaded our pipes and I sang the pipe filling song. As I was singing I started to feel this incredible, powerful energy entering the room. We began to pass the pipes as we prayed with them. I began to see all these spiritual beings from the woods slowly walking towards the circle. It was so powerful!! They wanted the
ceremony
to be in silence so we could FEEL their presence. As we passed the pipes we went deeper and deeper into stillness.
It was hard to tell how many beings where with us but the room was full. One woman felt someone touch her head and kiss it. I saw a being standing to my left who wanted to hold my pipe and pray with it as I passed it to Maya. It was so powerful. We were all in this deep place of silence. It felt like reverence.
When we were done we all shared how profound the circle was. I began to talk about the return of the sacred feminine and what is happening on the planet as far as transformation. I believe this is one of the reasons I see the pipe ceremony as such a powerful tool. The White Buffalo Woman who brought these teachings to the people I see as an embodiment of the feminine energy of
healing
and deep transformation that is so needed now on the planet.
After I spoke, Maya looked at me and said, " People are afraid of change."
Such a powerful statement for an eight year old.
So, after that we spent another day getting ready and the Questers went out for their time fasting and going deep inside to do their healing work.
While they were out for three days and nights, I had the great opportunity to spend some quality time with the supporters. One day I took Maya down to the pond with our drums. I taught her the Morning Sun song and The River. She was a total natural on the drum. We had a blast barefoot, exploring the tadpoles and bugs at the pond and left after the mosquitoes overcame us.
That same day we took a walk to Monks Cave, which is at the bottom of the mountain right at the entrance to Temenos. I asked Maya if she had a Godmother. She said no and I told her a Godmother is someone who would watch over you as far as spiritual affairs. That she would love you and take care of you always.
I asked her if she would want to become my God Daughter and she and her Mother were absolutely delighted at the idea!
The seed was planted.
I waited to listen to
spirit
for the next step.
I was told to have a ceremony and gift her with the white pipe bowl that was my old bowl from my personal pipe. It was a white alabaster bowl that was the pipe bowl that guided me to move north. I felt it held the energy of the North in the medicine wheel which IS the energy of transformation. Just like we spoke of in the last Ceremony.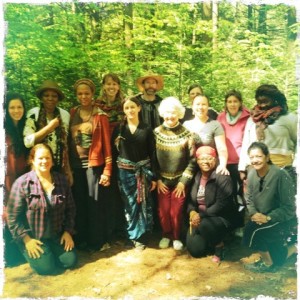 The folks were coming back from the VQ and settling into eating kichory, steamed veggies and drinking yogi tea. I knew it was time to end the day with our last Pipe Ceremony and that adopting Maya as my God Daughter was going to be part of it.
Before the folks had come back, I was resting and praying in my cabin. I asked for Maya's spirit name and it came loud and clear. Her name was "She Who Walks with Courage."
I thought, "Wow this is a powerful name for an eight yr. old". And then I remembered WHO this child WAS. Such an old soul with the most amazing heart filled with love and wisdom from the stars.
We began the Pipe Ceremony and there was so much love and gratitude in the circle as the Vision Questers had just come back from three days and nights of praying in the woods. Once again, we all felt the incredible presence of these compassionate beings entering the room and joining us in prayer.
After the pipes were smoked I spoke about community and how the "
tribe
" is part of the raising of a child. I honored sweet Maya for what she brought to the community that week as far as her service and willingness to be part of everything that went on supporting the Vision Quest.
I invited Maya to sit in front of me. Allowing the circle as our witness, I invited Maya to be my God Daughter and offered her the pipe bowl bundle as my spiritual gift to her. I told her when she was ready, her Mom would have a stem made and she could learn the ways of the sacred pipe and be a strong leader for the people. It was then that I gifted her the spirit name, She Who Walks With Courage. She proceeded to walk around the circle as each person greeted her with her new name and hugged her as part of our community.
As we finished the ceremony with the spirit food (berries and water) we sang the sweetest song from the Hawaiian prayer of Anapono Anapono….."I love you, I'm sorry, please forgive me, I thank you.", over and over again and felt this profound deepening of our hearts to love and the power of forgiveness.
When the ceremony was over, Maya wanted everyone to hold her pipe bowl and bless it.
As Maya and I looked into each others eyes, we could not stop smiling!
I love her with all my heart!!!