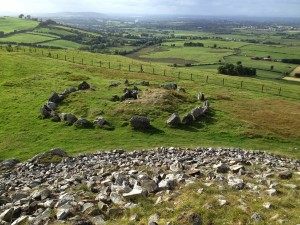 For most people, there comes a time in their life when deep transitions are happening, uncertainty is around the corner and times when nothing makes sense.
Nowadays, most folks choose Prozac, weed, sex or some other exciting thing that can distract them from what is really going on inside.
Fifteen years ago when the life I knew was dissolving before me I was praying non-stop for guidance and support of where to go and what to do.
I went to see an old man who was a healer. He knew nothing about me. He looked at my palms and said, "You are a shaman. In a past life, you were an oak tree . Then I started crying as my body trembled, feeling the words were so true but I did not understand how or why. He said, "Trees are unconditional love . Find your forest."
Then I moved to Takoma Park where it is also called, "Tree City." It is here that I have planted my roots for my healing center, and a home for my family.
After turning fifty I decided to go back to the land of my ancestors, Ireland. It was on that Emerald Isle that I found my true ancestors, the oak trees, during my Vision Quest. I would like to share what happened there.
My brother, Andrew, lead a small group of pilgrims to Ireland in 2007. That year had been a tough one for me. My youngest struggling with alcoholism and I was ending a long relationship that had taken the life out of me, so to speak.
I had done Vision Quests before but never one on land that was so alive and full of the energy of the Goddess.
I am sighing right now as I am writing this, remembering how raw I was once I got there. It all settled in my womb, where I started bleeding, after almost a year of not. It felt like my womb was crying, shedding her deepest sorrows. I felt I was circling downward into Her womb of dark, wet wisdom.
I had never experienced that power of connecting to my ancestors like this. I brought my pain of the struggle with my son to the land and She understood. I brought my heart filled with scars of disappointment and shame and She opened me up ever so gently and simply said in Her sweetest whisper…" You are worthy of so much more."
Never before had I felt so at home. The green of the trees and the sound of the wind brought me to a place of peace I had longed for my whole life.
Wicklow mountains are the home for Glendalough, a spiritual sanctuary where St. Kevin lived among all the animals and nature spirits. It was on this land where Andrew prayed us out for a day of silence and healing. A gentle Vision Quest.
It was early and there was a gentle rain upon me as I walked to the west. My whole being was seeking comfort and shelter. I was drawn up the mountain and the voice of the Grandfather Oak offered His shelter to me. It was here that I made my sacred circle and settled in for the day.
I slept, prayed, and slept some more. When sleeping I had many dreams and visitations from the spirits on the land. I offered tobacco, lavender and prayed with my sacred Ireland Pipe.
As I continued to be in the deep silence, with the Trees and all the loving energy of the land I had a simple vision. As I looked up, there kept being this circle of light that was being help by the leaves of the trees. As the wind gently blew, this circle pulsated and was totally alive with healing energy.
As I allowed myself to merge with this circle, I could feel a knowing flowing into me. A knowing that I was part of a greater whole. I realized the circle is life, is myself, is love and all there is.
The rest of my time there continued to unfold with magic, grace and wonderment.
After my experience on this Quest, I have had the freedom from loneliness and despair.
And I also know that a Vision Quest does not need to be about suffering. It is about getting quiet enough with all the distraction of life to be able to listen with my eye, ears and heart.
For the land and all Her glory, and Grandfather Oak.
I am forever grateful.